The goal of the Fine Arts Staff in Red Oak ISD is to support all students in achieving the district vision by providing students the opportunity to create, perform, interact, and expand their horizons through visual and performing arts. We believe arts education is an important piece of a well-balanced curriculum, and essential to our student success. Red Oak ISD students receive arts education throughout the district.
Red Oak ISD Named Best Community for Music Education
For the third time, Red Oak ISD has been honored with the Best Communities for Music Education designation from the NAMM Foundation for its outstanding commitment to music education. Red Oak ISD is one of only 40 districts in Texas to be named to the list and joins 476 districts across the country in receiving the prestigious award in 2016. NAMM is the National Association for Music Merchants.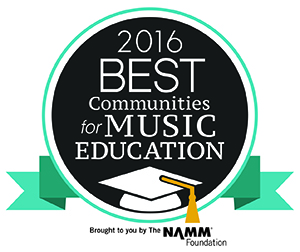 The Best Communities Music Education designation is awarded to districts that demonstrate outstanding achievement in efforts to provide music access and education to all students. Districts that have been recognized by the NAMM Foundation are often held up as models for other educators looking to boost their own music education programs.
To qualify for the Best Communities designation, Red Oak ISD answered detailed questions about funding, graduation requirements, music class participation, instruction time, facilities, support for the music program, and community music-making programs. Responses were verified with school officials and reviewed by The Music Research Institute at the University of Kansas.
"Being named to this prestigious list is an honor and a testament to the commitment of our school board, staff and dedicated parent volunteers who support all aspects of music education in Red Oak ISD," said Superintendent Dr. Scott Niven. "Our music programs from elementary to high school serve such an important role in education and we look forward to continued successes and growth."
About The NAMM Foundation:
The NAMM Foundation is a nonprofit supported in part by the National Association of Music Merchants and its approximately 10,300 members around the world. The foundation advances active participation in music making across the lifespan by supporting scientific research, philanthropic giving and public service programs. For more information about the NAMM Foundation, please visit www.nammfoundation.org.
For more information, please contact:
Red Oak ISD
P. O. Box 9000
Red Oak, TX 75154
972-617-2941