Red Oak ISD appreciates the support and involvement from our senior citizens. Each semester, senior citizens in the community are invited to a luncheon in their honor. Senior Citizen Gold Card members receive invitations to district events throughout the year and enjoy discount offerings. Please see the information below to learn about how to apply for your Gold Card today or call the Communications Office at 972-617-2941.
FALL SENIOR CITIZEN LUNCHEON
SAVE THE DATE:
Community members 60 years and older are cordially invited to Red Oak ISD's Senior Citizen Luncheon on November 7, 2017 at 10:30 a.m. The luncheon will be held at Red Oak High School located at 220 South SH 342 in Red Oak. Please enter ROHS parking lot off of Lowrance Road.
RSVP by November 1: call Debbie Temple at 972-617-2941 or email debbie.temple@redoakisd.org.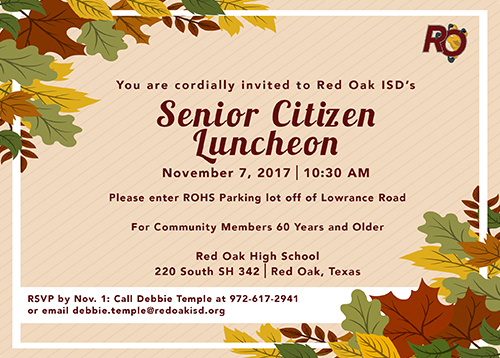 ---
SENIOR CITIZEN GOLD CARD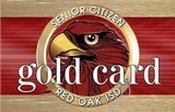 Red Oak community members who are 60 years or older are invited to sign up for a FREE Red Oak ISD Gold Card. The gold card benefits include free admission to all Red Oak ISD sponsored home athletic events (general admission), plays, and concerts. Please download the Gold Card Application Form or stop by any school campus for an application.