Join us for the SANTA SHUFFLE on Dec. 2nd.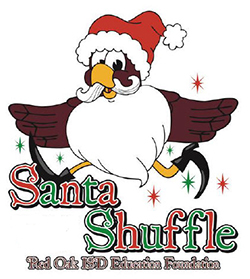 This is a 1 mile Fun Walk / Run around the high school campus with holiday stations throughout. It is a family event for all ages! Here are a few important details about the event:
Saturday, Dec. 2nd, 2017
8:30am - Onsite Registration
9:30am - Fun Walk/Run begins
Start/Finish – TSTC North Texas (located at 119 N. Lowrance Rd. in Red Oak - behind the high school)
Registration:
Early Registration (by 11/17) $15.00 (includes long sleeve shirt with full color print)
Late Registration (11/18-11/21) $20.00 (includes long sleeve shirt with full color print)
Onsite Registration (12/2) $20.00 (includes long sleeve shirt if available)
To register for the Santa Shuffle, click the button below: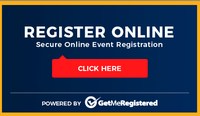 Please remember:
This is an online registration only event – link above.. We will also be printing flyers with QR codes and links to the registration to be displayed around your campus.

This is not a competitive run – no timing will take place. There will be fun stations along the way for participants to enjoy. Hot chocolate will be served at the end of the event by TSTC.

Shirts will be long-sleeved shirts with color print. The design will be different from last year – so everyone will want a new shirt! ?

There will not be a Festival of Trees this year. (It is our year off from this event in case students or parents ask.)

Make plans now to join us! You will not be disappointed! It will be AWESOME!
T-shirts can be picked up Thursday, Nov. 30th (3 - 7 p.m.) at the ROISD Education Foundation office located at 101 Live Oak, Red Oak TX 75154 (Acorn Family and Community Services Building). NO GUARANTEE OF A T-SHIRT FOR ALL REGISTRATIONS AFTER 11/17/17.
**If event is cancelled due to inclement weather, all registration fees will become a donation to the Red Oak ISD Education Foundation. Thank you.: **
Sponsors:

---
On the Border Give Back Event
We also want to invite you to the On the Border Give Back Event this Wednesday, Nov. 15th at the DeSoto location. Please see the attached flyer for details. Be sure to tell them you are with the ROISD Education Foundation and present flyer. They will donate 20% of the proceeds on Wednesday back to us! You will need some Mexican Food before all the turkey and dressing next week!
---
2018 Grant Information
Classroom Project Grant
Classroom Project Grant is designed to encourage individual educators to develop specific and innovative instructional programs that stimulate thought and advance new approaches to teaching in all curriculum areas PreK-12. These grants primarily fund individual classroom projects that in most cases, impact a smaller number of students than that of an Impact Grant Proposal.

Submission Deadline: Tuesday, February 13, 2018 @ 4:30 p.m.
Impact Grant
The IMPACT GRANT is designed to provide funding to a program, department, grade level or campus. Applicants are expected to plan instructional opportunities that increase student achievement. These grants focus on particular subject areas and are expected to impact a greater number of students than Classroom Project Grants. These grants generally are for entire grade levels, entire departments or entire campuses.

Submission Deadline: Tuesday, February 13, 2018 @ 4:30 p.m.
Grant Package
---
Message from the President

Dear friends,
In 2002, the Red Oak ISD Education Foundation embarked upon an amazing journey to enrich the educational experience of Red Oak ISD students by providing opportunities for innovative learning and increasing access to resources above and beyond the norm. And now, 15 years later, that purpose still remains central to every effort made by our wonderful board of directors. Thanks to the continuous focus and dedication of these community leaders, including the selfless leadership of Monica Ball, we begin 2017 keenly aware our role in the further enhancement of education in Red Oak.
In anticipation of a great future, we must certainly reflect upon the past. Each endeavor of 2016 was rooted in a desire to positively impact the academic achievement of as many students as possible. In fact, over $$67,238.87 was awarded in classroom grants, representing 7 of our 8 campuses. The foundation facilitated the funding of dual credit scholarships for ROHS students in the amount of $7,056.67. Additionally, several outside grants were received including a $35,000 grant from the Dart Foundation for elementary STEM labs.
Beyond our annual fundraising efforts, we've found it essential to support those who have recently chosen to use their individual talents and abilities to educate our children. Instructors new to education in the district were awarded teacher grants to jumpstart their classroom initiatives. These mini grants were received with such appreciation and certainly helped these young educators begin the year knowing the Red Oak ISD Education Foundation is their partner and one of their biggest fans. We look forward to continuing this program in some fashion for years to come.
None of these grand achievements would be possible without the generous support of our donors. We appreciate each and every contribution, from corporate project funding and our phenomenal employee partner program to friendships with local business owners and gifting from parents. Together we're better!
We look forward to a wonderful year of celebration in 2017 and will stretch even further to continue that forward-thinking mission birthed 15 years ago. Won't you join us?
Monique Ballard, ROISD Education Foundation President
---
Red Oak ISD Education Foundation
P.O. Box 9000
Red Oak, TX 75154
Phone: 972-617-4320
Fax: 972-617-4321
Email: foundation@redoakisd.org

Office located at:
Acorn Community & Family Services Center
101 Live Oak Street
For map to the office, click here.

Karen Anderson
Executive Director of Education Foundation

Donate Online!

Red Oak ISD Education Foundation is excited to announce that our donors may now make their donation online. Click the button below to open the online donation form.

Thank you again for your support of our schools. We appreciate you.

---

2016 Audit Report & Donation List is now available.